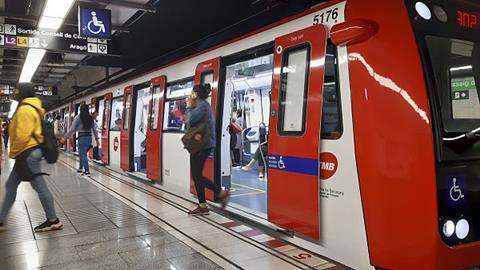 SPAIN: Barcelona operator TMB put the first of two second-generation CAF Series 5000 metro trainsets ordered for Line 3 into passenger service on October 5.
TMB placed a €75m order in March 2018 for CAF to supply four Series 6000 trains for Line 1, and second-generation Series 5000 trains for Line 3 (two units) and Line 5 (four units).
The Line 5 trainsets entered traffic in July, enabling TMB to have 35 trains in service on the line at peak times. All the others are scheduled to be in use by the end of 2020.
The 86 m long, five-car fully-gangwayed Series 5000 has 108 seats. Compared with the first-generation units, the latest version has more space for wheelchair users, as well as push-buttons designed for use by passengers with reduced mobility.
The 1 435 mm gauge 1·2 kV DC trainset is rated at 1 920 kW, with a maximum speed of 80 km/h and regenerative braking.