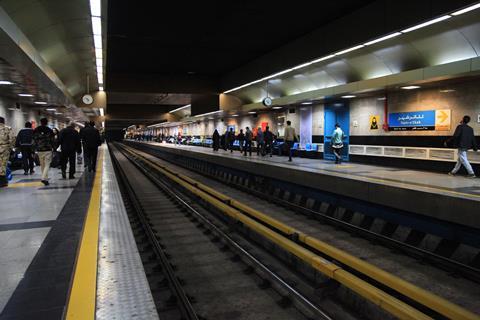 IRAN: A domestically-designed metro train with 85% local content has been unveiled by President Hassan Rouhani.
Development began in June 2019, when a memorandum of understanding was signed between the Vice-Presidency for Science & Technology, Tehran Urban & Suburban Railway Co and the Innovation & Prosperity Fund.
Developed in 18 months, the train is reported to have 85% local content, up from 25% to 30% for the country's previous metro trains which have been mostly supplied by Chinese companies such as CRRC Changchun, with some localisation by Wagon Pars.
Ali Yemam, the head of Tehran Urban & Suburban Railway Co, said the country had the capacity to produce up to 105 domestic vehicles by March 2022, subject to funding, predicting that there would be a need for up to 5 000 vehicles over the next 10 years.
The national development plan for 2016-21 estimated that 2 000 metro and suburban rail vehicles would be needed in Tehran, but this plan was not implemented, partly as a result of international sanctions. Tehran has a seven-line network of urban and suburban rail services totalling 254 route-km, with expansion to nine lines and 430 km envisaged by 2025.