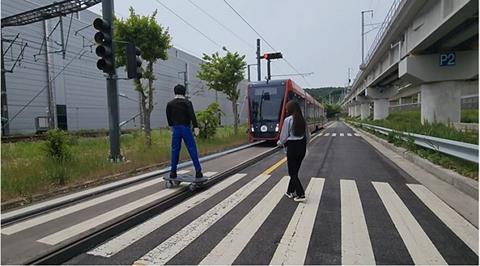 SOUTH KOREA: Korea Railroad Research Institute has completed 600 km of test running with its V2X 'Vehicle to Everything' catenary-free tram, which is equipped with autonomous driving technology that is able to recognise moving objects 100 m ahead.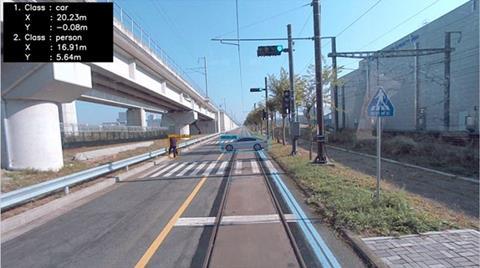 The concept combines autonomous driving technology from the automotive sector with tramway signalling. The V2X trams are equipped with a camera and AI-based image detection which can identify pedestrians, drivers, cyclists and other obstructions up to 100 m ahead of the vehicle and then implement a variety of actions according to its collision risk determination. The system determines the likely risk of a collision using a linear map of the tram route.
In order to comply with traffic signals at road intersections, the V2X onboard equipment receives direct information about the time remaining in the tram phase, allowing the system to make a decision whether to continue through the intersection or to stop. It then sets an appropriate target speed for the traction controller to follow.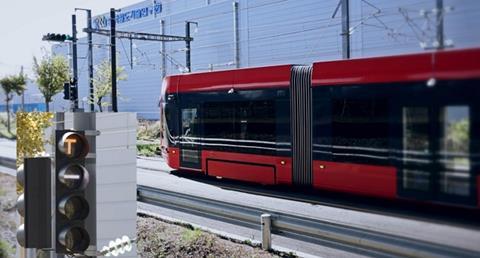 The tram is equipped with high-capacity batteries for catenary-free operation, and the autonomous driving system can park the vehicle precisely at the charging station.
The V2X tram has been undertaking trials at KRRI's research centre in Osong. This has a 1·3 km test track incorporating three stops and four intersections. The 600 km test programme included running within a variety of different speed limits and reacting to a range of unexpected situations.
According to KRRI, the V2X technology could reduce the likelihood of accidents by more than 50% and the amount of caused damage by more than 30%.