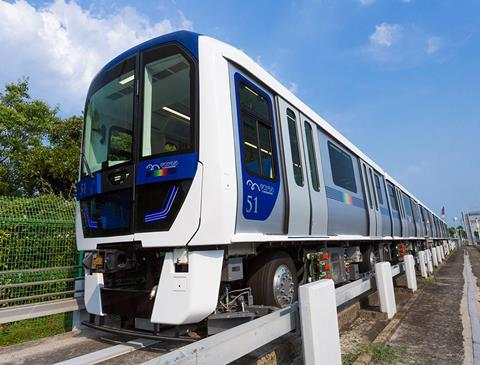 JAPAN: Mitsubishi Heavy Industries Engineering has completed delivery of eight six-car Series 7500 rubber-tyred light metro trainsets which were ordered in September 2016 to replace Series 7200 sets on Tokyo's Yurikamome Line.
Formerly known as the Tokyo New Transit Waterfront Line, the 14·7 km automated guideway transit line linking Shimbashi and Toyosu with 16 stations opened in 1995, and last year carried an average of 133 000 passengers/day.
In 2010 MHIENG received an order for 18 trains Series 7300 trains to replace the Series 7000 cars dating from the opening, and these were delivered by June 2016. This was followed by an order for Series 7500 trains, with the first entering service in November 2018. MHIENG is also responsible for maintenance of the fleet.
The Series 7500 is designed around the concept of 'a fresh breeze for the waterfront area', and features a 'more futuristic' and 'gull winged' front end. Changes to the interiors for passenger convenience and comfort including dual screens above each door to provide information to passengers.
The cars have an all-aluminium alloy, double-skin structure designed to be lightweight, durable and easily recyclable, as well as T-smover bogies to reduce vibration and G-Fit semi-high back bucket seats designed to provide comfortable seating while discouraging passengers from extending their legs into the aisle.
Blue LEDs on the front indicate when the train is operating autonomously rather than being controlled by a driver.