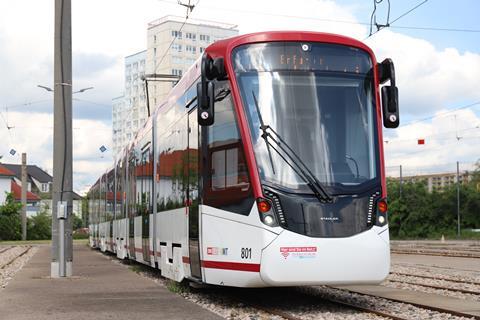 GERMANY: Erfurt operator EVAG has unveiled the first of 14 Stadler Tramlink trams ordered to replace its first generation of low-floor vehicles and provide an increase in capacity on the 103 km metre-gauge network.
Two of the new trams are scheduled to enter service in June ready for the city to host the BUGA 2021 gardening festival, with the rest of the fleet following at a rate of two per month.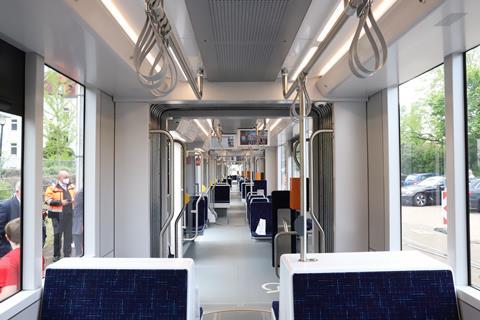 The seven-section, unidirectional trams being supplied from Stadler's Valencia factory are 2 300 mm wide and 42 m long, longer than EVAG's current trams and providing a capacity of up to 248 passengers including 102 seated.
The Kiepe Electric propulsion system incorporates a number of energy-saving features, including the use of heat from the traction motors to warm the tram interior and the recovery of braking energy for use by onboard systems or for return to the overhead supply. The ventilation system features demand-responsive fresh air supplies controlled by CO2 sensors.
The order signed in October 2018 was co-financed by the Land of Thüringen and the European Regional Development Fund. TÜV Rheinland supported procurement and approval.
EVAG has an option to order a further 10 trams by the end of 2023 if financing can be agreed.