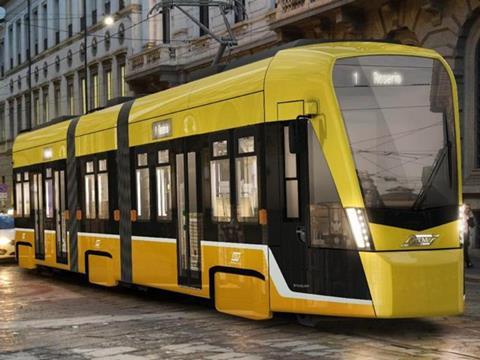 ITALY: Milano's municipal transport operator ATM and Stadler have signed a six-year framework agreement covering the supply of up to 80 trams worth €172·6m, with a firm order for an initial 30 vehicles.
The finalisation of Stadler's first contract to supply trams to Italy was announced on September 29, after the company was named as preferred bidder in July 2019 The low-floor trams from the Tramlink family will enter service gradually, replacing older vehicles and supporting an increase in services.
Stadler is to supply two 1 445 mm gauge Tramlink variants, with up to 50 cars intended for operation on Milano's urban routes and up to 30 for use on the interurban lines to Desio and Limbiate. The initial firm order worth €75·5m covers 20 trams for urban services and 10 interurban vehicles.
Operating at 600 V DC, the stainless steel bodied vehicles will be around 25 m long, carried on three 'innovative' bogies to ensure smooth running and low noise on Milano's very tight curves. There will be three doors on each side, which studies by the Politecnico di Milano have calculated will allow a rapid flow of passengers. Wide aisles will ensure that passengers can move along the tram without difficulty.
The cabs have been designed to maximise the driver's visibility, but CCTV cameras will also be provided to eliminate blind spots. Anti-collision devices will been able to intervene if they detect a potential collision with pedestrians, cars or other obstacles.
In contrast to the majority of ATM's existing trams the new cars will be bidirectional, avoiding the need to provide turning loops at every terminus.
'We are very proud that a cosmopolitan city like Milano, strongly committed to green and sustainable mobility, has chosen our innovative tram', said Íñigo Parra, CEO of Stadler Valencia, 'I am convinced that our vehicles will successfully meet the challenges of Milano's urban transport, including the Winter Olympics in 2026.'