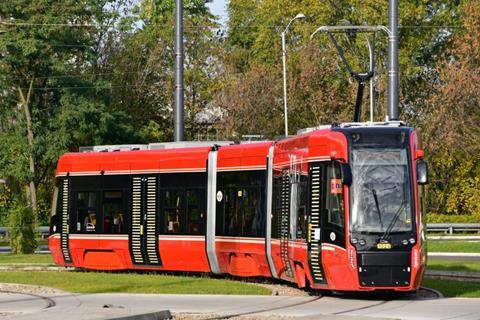 POLAND: Tramwaje Śląskie's first Pesa Twist 2017N tram entered revenue service on October 23, operating on Route 36 from Brynów Huberta to Szopienice Pętla.
In June 2018 Tramwaje Śląskie awarded the manufacturer a 221m złoty contract to supply a total of 35 trams, co-financed by the EU. A Solaris-Stadler consortium and H Cegielski had also bid.
The order includes 27 trams which are 25 m long and 65% low floor, and eight 32 m long vehicles which are 75% low-floor. Features include air-conditioning, USB sockets, wi-fi, CCTV, passenger information systems and areas for passengers with reduced mobility.
Seven of the shorter trams have so far been delivered to Zawodzie depot, and four have been accepted for operation. The first of the longer trams is expected to arrive in early November.