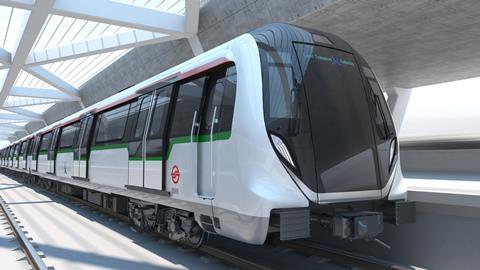 SINGAPORE: Bombardier Transportation has unveiled the styling of the 106 six-car Movia metro trainsets which Land Transport Authority has ordered for entry into service on the North-South and East-West lines from 2022.
'Inspired by the city's vibrant charm, the red and green pulse lines running along the exterior carbody provide a contemporary visual emphasis for passenger entry points', the manufacturer said. The interiors will feature more open spaces for wheelchairs and pushchairs than previous designs.
'For the last seven years, our proven Movia metro trains have been moving millions of passengers on the Downtown Line making their daily commute greener, quieter and safer', said Jayaram Naidu, Bombardier Transportation's President of Southeast Asia, on October 9.
'We are looking to further collaborate with LTA to introduce our globally game-changing metro trains to help enhance the travel experience, reduce energy consumption and improve rail reliability in Singapore. With 636 metro cars ordered for this project, this will bring the number of Movia vehicles in Singapore to 912, making it one of Bombardier's largest metro fleets in the world.'