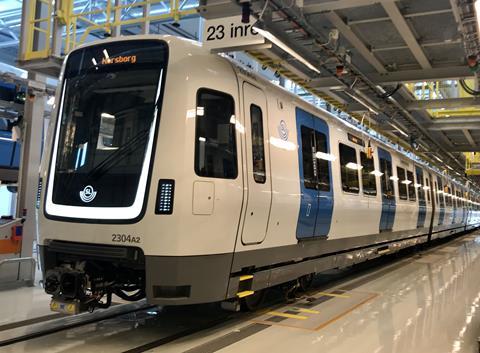 SWEDEN: Bombardier Transportation has handed over the first Movia C30 articulated trainsets for use on Stockholm's Red Line, the supplier confirmed on June 26.
Regional transport authority Storstockholms Lokaltrafik ordered the 96 four-car units in June 2013 under an SKr5bn contract with options for up to 80 additional sets; at that time the trains had been expected to enter service in 2017. Following certification in June 2019 a pre-series unit was delivered to Stockholm for further testing. Series deliveries by rail to SL's Norsborg depot began in April 2020, and six sets are now available for trial running and driver training before entering regular service.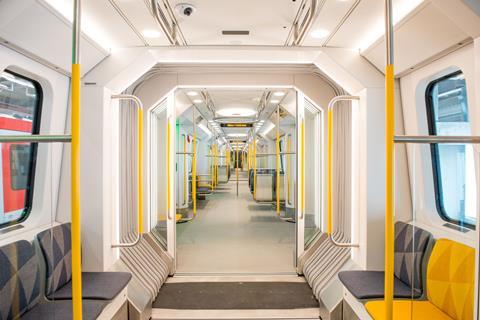 Operating in pairs, the C30 units will progressively replace older stock on the northeast-southwest Red Line. Each 70 m articulated unit has capacity for 634 passengers including 140 seats in a mix of transverse and longitudinal layouts and multi-purpose spaces for wheelchairs, prams and bicycles.
Each car has three wide sets of sliding doors per side to speed up boarding and alighting and reduce station dwell times. Along with the resignalling of the Red Line, this is expected to permit an increase from 24 to 30 trains/h in each direction.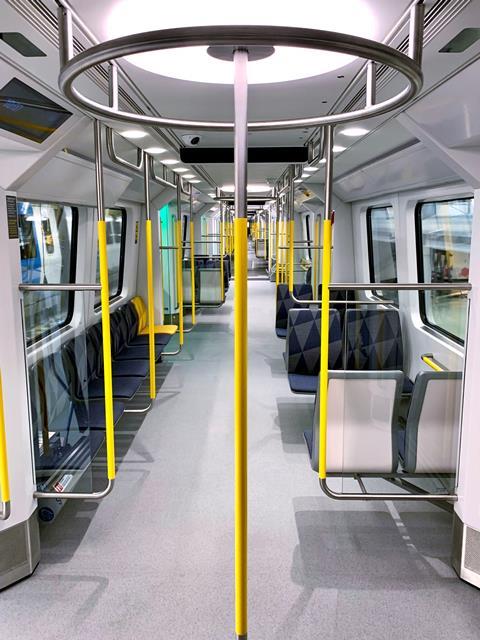 Designed for 750 V DC third-rail operation, the trains are being assembled at Bombardier's Hennigsdorf plant near Berlin, using bodyshells manufactured in China by the Bombardier Sifang Transportation joint venture and Flexx Eco bogies from Siegen. The Mitrac propulsion system comes from Västerås and the Orbiflo remote condition monitoring technology was also developed in Sweden.
The C30's striking exterior design won a Good Design award in 2017, being described as 'a clear expression of Scandinavian style that will become an unmistakable city icon'. According to the manufacturer, the air-conditioned trainsets meet the highest standards for energy consumption and are 98% recyclable.
'We welcome the strong partnership we have with SL', said Bombardier Transportation Project Director Henrik Junkrans. 'This fleet of new Movia C30 trains will bring attractive, sustainable and reliable public transport to Stockholm's citizens, thanks to their award-winning Scandinavian design, energy-efficient technology and predictive maintenance solution.'