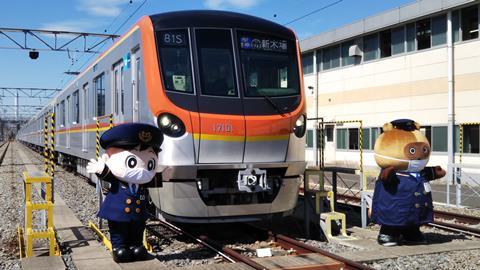 JAPAN: The first Series 17000 trainset to operate on Tokyo Metro's Yurakucho and Fukutoshin lines was officially unveiled at the operator's Shinkiba depot on August 11.
Both lines carry through services which are operated in conjunction with the Seibu Tobu and Tokyu railways as well as the Yokohama Minatomirai Railway. The streamlined trainsets have been designed to meet the common specifications required for through operation.
In March 2019 Tokyo Metro announced its intention to order the Series 17000 trains for the Yurakucho and Fukutoshin lines and a related build of Series 18000 trainsets to update the Hanzomon Line fleet.
On November 11 the operator confirmed that it had ordered a build of 180 Series 17000 vehicles, which will be formed into six 10-car and 15 eight-car sets. These are due to be introduced by 2022, replacing the last remaining Series 7000 units which date from the 1970s and were refurbished in 2007.
The first two 10-car sets have now been delivered by Hitachi; following commissioning and test running, they are expected to enter passenger service in February 2021.
Formed of 20 m long vehicles 2 800 mm wide, the 1 067 mm gauge trainsets take power from a 1·5 kV DC overhead line, and will operate at a maximum speed of 100 km/h. The floor height of the new stock is 60 mm lower than the Series 7000 vehicles, reducing the step between the train door and platform. There are four sets of double doors on each side of each car for rapid boarding and alighting, while the interior configuration has been updated to provide a flexible space in each vehicle.