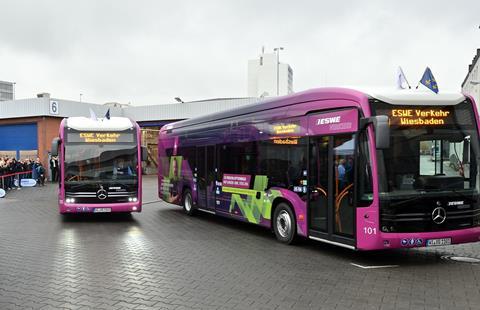 GERMANY: The first three of 56 Mercedes-Benz eCitaro buses that Daimler Buses is supplying to Wiesbaden transport operator ESWE Verkehr were handed over on November 18.
Seven more are scheduled to be delivered from Daimler's Mannheim factory by the end of December, with the remaining 46 due to reach Wiesbaden next year.
The contract announced on April 10 includes the supply of chargers and other depot infrastructure. Daimler Buses eMobility Consulting is assisting ESWE in the conversion of its bus fleet to electric vehicles.
The first 15 buses are being equipped with lithium-nickel-manganese-cobalt-oxide batteries, and the remaining 41 will have solid-state batteries. The batteries will be charged with plug-in charging at the depot using IVU Traffic Technologies charging management software.