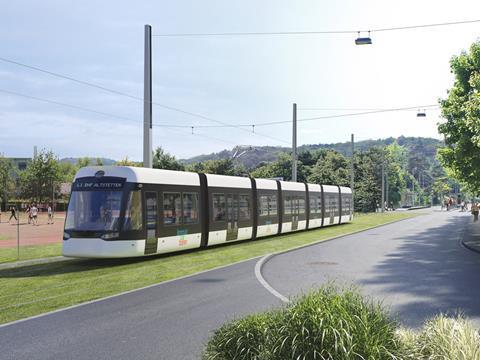 SWITZERLAND: Funding which will enable the construction of the Limmattalbahn was approved by voters in Zürich Canton on November 22. Turnout was 40%, with 64·5% of voters in favour. Zürich is to provide SFr510m for construction of the line and a further SFr136m for changes to the road network.
The 13·4 km light rail line would link the Zürich suburbs of Altstetten, Dietikon and Killwangen-Spreitenbach. Construction is to begin in the second quarter of 2017. The first phase between Altstetten and Geissweid is due to open in 2019. The remainder of the route, with 18 stops, is due to follow in 2022.
Around 92% of the metre-gauge route would be on reserved track, which would permit speeds up to 60 km/h. It would be electrified at 600 V DC between Altstetten and Schlieren for compatibility with the network of Zürich tram operator VBZ, and at 1·2 kV DC from Schlieren to Killwangen for compatibility with the local railway operated by BDWM Transport.
VBZ, BDWM Transport and Sihltal-Zürich-Uetliberg Bahn have expressed interest in operating the route.