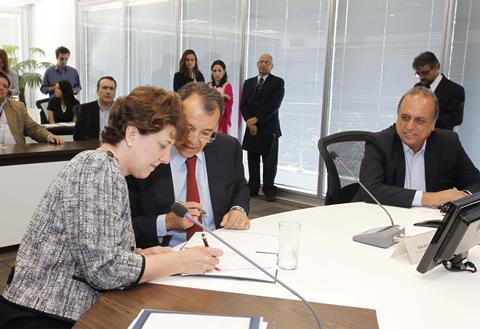 BRAZIL: The World Bank is lending US$600m to the state of Rio de Janeiro to fund the acquisition of 60 electric multiple-units for the suburban network operated by SuperVia, as well as the construction of new stations. Governor Sérgio Cabral signed the loan agreement in Rio on September 5 with Deborah Wetzel, World Bank Director for Brazil.
'We will arrive in 2015, as promised, with the entire SuperVia fleet renewed', said Cabral. According to the governor, the cost of the new trains has come in under budget, meaning that $230m of this latest tranche of World Bank funding will be used to build new stations at Maracanã, São Cristóvão and Mangueria to serve venues for the 2014 football World Cup and 2016 Olympic Games.
Earlier this year, SuperVia took delivery of the first of 30 EMUs supplied under a $165m contract awarded with World Bank support by the state government to a consortium of China National Machinery Import & Export Corp and CNR Changchun Railway Vehicles. Featuring air-conditioning, CCTV, passenger information systems and capacity for 1 300 passengers each, the four-car 1 600 mm gauge 3 kV DC units are the first Chinese-built EMUs to enter service in South America, according to CNR Changchun.