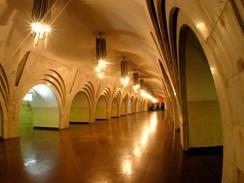 ARMENIA: The European Bank for Reconstruction & Development and the European Investment Bank are to provide loans of €7m each for the third metro rehabilitation project in Yerevan. A further €7m is to be sought from another international donor.
The project would involve refurbishment of the depot, substations, power cables, ventilation and track, as well as the installation of new station escalators. The total cost is put at €22·5m.
According to the EBRD, depot modernisation is expected to reduce CO2 emissions by 1 320 tonnes during the heating season, with additional energy savings at other times achieved through more efficient air-conditioning. Replacing the metro's ventilation system could reduce CO2 emissions by 1 469 tonnes per year. New station escalators would reduce emissions by an estimated 1 242 tonnes a year, as well as being able to handle higher passenger throughput.
A pre-feasibility study is to receive €200 000 from the EBRD, technical due diligence worth €74 000 is to be financed by the Swedish government, project implementation support is to receive €1m from the EIB and the stakeholder participation programme to raise public awareness is proposed to be financed by an international donor with a loan of €250 000.