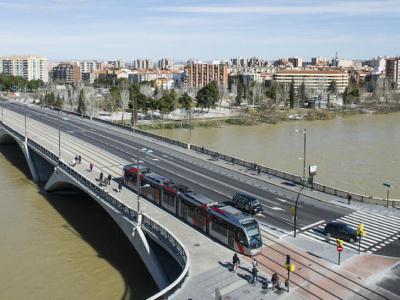 SPAIN: The final section of Line 1 of the Zaragoza tramway opened on March 26. The extension takes the line across the River Ebro from the former terminus at Plaza de Pilar Murallas to Avenida de la Academia in Parque Goya. There are 15 new stops, including 10 where single tracks run on parallel streets.
The standard gauge line is now 12·8 km long. It opened in April 2011 and has been extended in stages. The first extension was from Gran Vía to Plaza de España in October 2012. On December 20 the line was extended by 844 m to César Augusto and Plaza del Pilar.
Services are provided by CAF Urbos trams equipped with a supercapacitor for catenary free operation between Gran Vía and La Chimenea in the city centre.
The line has been built by a consortium of Transportes Urbanos de Zaragoza, CAF, IberCaja, Concessia, Acciona and FCC Construcción.