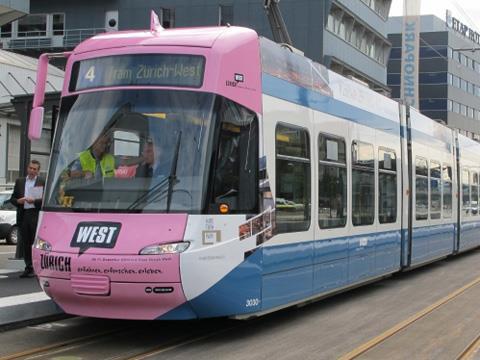 SWITZERLAND: Zürich transport operator VBZ has begun test running on the 3 km Zürich West extension of tram Route 4 from Escher-Wyss-Platz to Altstetten Nord, scheduled to open on December 11.
Seven stops will serve the Zürich West area where redevelopment is expected to increase the number of local jobs from 21 800 today to 32 200 in 2025.
Construction of the extension began in September 2008, with the SFr150m cost split between the national, regional and city authorities and including a contribution from SBB. When the extension opens the current Werdhölzli terminus of Route 4 will become part of a temporary Route 17 from Hauptbahnhof.
The next tram project will be a SFr100m link from Hardplatz to Escher-Wyss-Platz over an existing road bridge, enabling Line 8 to reach Werdhölzli in place of the temporary Route 17. This will reduce the need for passengers to change, relieve pressure on the tramlines around Hauptbahhof, and provide a tram service to Hardbrücke S-Bahn station.
Approval was granted earlier this year, and construction is planned to begin in 2015 for opening in December 2016.