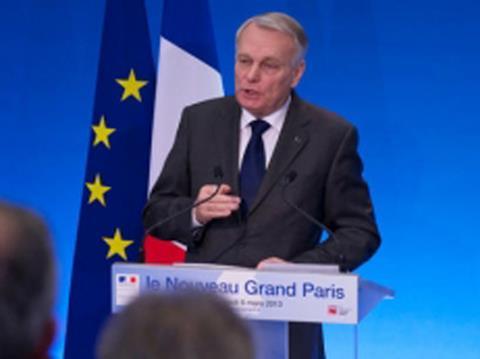 FRANCE: The government is to proceed with the project to build 200 km of new metro lines by 2030 to serve the outer suburbs of the capital, Prime Minister Jean-Marc Ayrault announced in a speech given on March 6. Following a review of the programme inherited from the Sarkozy administration, Ayrault said that the Nouveau Grand Paris programme was 'unprecedented in its ambition and it is funded'.
The Grand Paris Express project to build a network of orbital automatic metro lines now has a budget of €26⋅5bn, and Ayrault said that construction of the various routes would be launched in parallel. The first public inquiry is due to start later this year for work to start on Line 15 from Noisy-Champs to Pont-de-Sèvres in 2015.
This route should be in service by 2020 when work would be nearing completion on a further section of Line 15 from Noisy to Le Bourget and on Line 18 from Massy-Palaiseau to Saclay. To connect with these new orbital routes Line 11 of the Paris metro network is to be extended eastwards to Noisy-Champs, while Line 14 is be extended northwards to Saint-Denis-Pleyel and to Orly south of the capital.
The Nouveau Grand Paris programme also includes €7bn to improve existing routes by 2017, which is expected to create 57 000 jobs. This will include modernisation of RER lines B, C and D, extension of metro Line 4 to Montrouge by 2013 and the opening of light rail route T8 from Saint-Denis to Épinay and Villetaneuse in 2014. Refurbishment of the major interchange at Châtelet-Les Halles is planned for 2016, followed by the extension of metro Line 14 to Mairie de Saint-Ouen in 2017 and the construction of the Clichy – Montfermeil branch of light rail route T4.
Grand Paris Express network
Line 15: Noisy-Champs – Champigny Centre – La Défense – Saint-Denis-Pleyel – Rosny-Bois-Perrier
Line 16: Noisy-Champs – Clichy-Montfermeil – Aulnay-sous-Bois – Pleyel
Line 17: Pleyel – Le Bourget – Le Mesnil Amelot
Line 18: Orly – Massy-Palaiseau – Saclay – Versailles