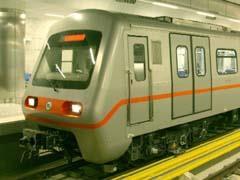 GREECE: Attiko Metro has awarded a consortium of Alstom, Greek construction group J&P Avax and Italian civil engineers Ghella, a €344m contract to design and build a 7∙6 km southern extension of Athens metro Line 3 from Haidari to Dimotiko Theatro, in the port city of Piraeus. The project is co-funded by the European Union and the Greek government.

The line would serve six new stations at Aghia Varvara, Korydallos, Nikaia, Maniatika, Piraeus with an interchange with Line 1, and Dimotiko Theatro. The extension would provide a total daily capacity of 135 000 passengers and according to Alstom, work is expected to be completed by 2017.

Alstom's share of the contract is worth €32m, and includes the design and installation of the traction power supplies.

'This contract confirms Alstom's infrastructure expertise, having helped build the first Athens metro. This project will provide passengers and tourists travelling from the airport to the port of Piraeus with a more convenient transportation service,' said Stavros Vlachos, Managing Director of Alstom Transport Greece.

Attiko Metro is to award five separate contracts for signalling, automatic train supervision, fare collection, radio communications and building automation & control.