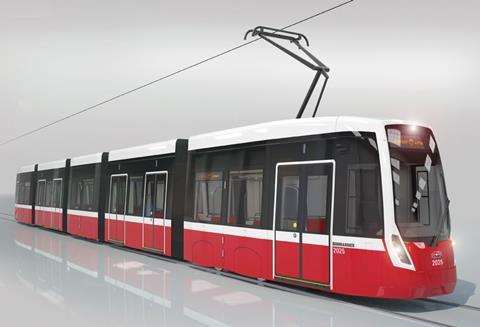 AUSTRIA: On December 1 public transport operator Wiener Linien announced that it had selected Bombardier Transportation for a €562m contract to supply up to 156 low-floor trams, which will replace its high-floor E2 tram-and-trailer sets. Wiener Linien says that it will also be signing a maintenance agreement, under which its staff will maintain the new fleet 'on behalf of and at the risk of the manufacturer'.
A variant of the Flexity family, the 34 m long cars will be able to accommodate a total of 211 seated and standing passengers. Deliveries from Bombardier's Wien factory are due to take place from 2018 to 2026.
'We wanted a vehicle that is modern, comfortable and environmentally-friendly', said WL CEO Günter Steinbauer. The new fleet would be well suited to the existing infrastructure and offer a good combination of cost and performance, he added.
Having launched the procurement process for the new cars in 2013, WL exercised a final option earlier this year for another 30 Type B ULF low-floor cars of 35⋅5m. To be delivered by Siemens in 2016, these will bring the ULF fleet to a total of 332 vehicles.