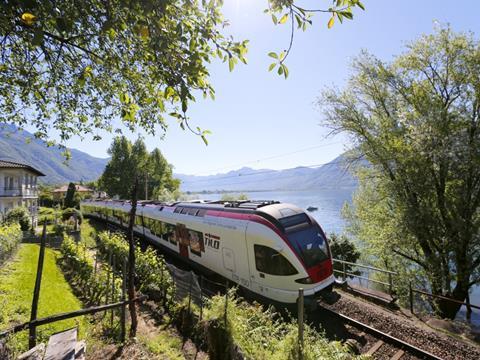 EUROPE: The much-delayed cross-border link between Stabio in Switzerland and Varese in Italy forming part of the Ferrovia Mendrisio – Varese project will open for public services on January 7.
In an initial step on December 10 cross-border operator for Ticino and Lombardia TILO will extend Route S40 between Stabio and Mendrisio to Como and Albate-Camerlata, while Route S50 will run hourly from Stabio to Lugano and Bellinzona. From January 7 both of these routes will be extended across the border from Stabio to Varese.
The next stage will follow in June 2018 when Route S40 will be extended every two hours from Varese to Milano Malpensa airport, serving stations at Terminals 1 and 2. Passengers heading for Malpensa from Lugano and Bellinzona will need to change at Mendrisio — the aspiration to run through trains from Bellinzona and Lugano to the airport must await a further step-up in services posited for the end of 2018. The delay appears to hinge on funding of SFr2m a year being made available by the Ticino canton.
The project has been beset by disagreements between the parties and problems with contractors on the Italian part of the route between Stabio and Arcisate. Construction work included a tunnel between Induno and Varese, a bridge over the Laveggio river and new stations at Stabio, Gaggiolo, Induno-Olona and Arcisate.