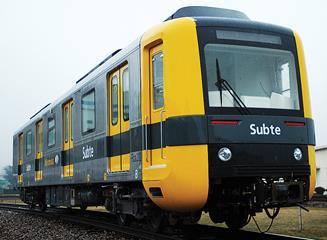 ARGENTINA: Line A of the Buenos Aires metro network was officially reopened on March 6 by Mauricio Macri, head of the city government, following work to adapt infrastructure and the testing of a new fleet of 45 cars supplied by China CNR Corp.
The 11 km route had closed on January 12 for upgrading, which included raising the traction supply voltage from 1·1 to 1·5 kV DC, as well as station refurbishment and modernisation of the ventilation and passenger information systems.
'We have brought Line A into the 21st century', said Macri. The new air-conditioned Chinese cars, each accommodating 36 seated and up to 100 standing passengers, replace wooden-bodied rolling stock dating from the opening of the initial section of Line A on December 1 1913, the first metro in Latin America.
Macri announced that tendering had started for a further 105 cars to replace the more recent Fiat/Materfer vehicles which also operate on Line A. Two five-car Fiat trainsets have had their wheelsets replaced to enable them operate alongside the new CNR vehicles.