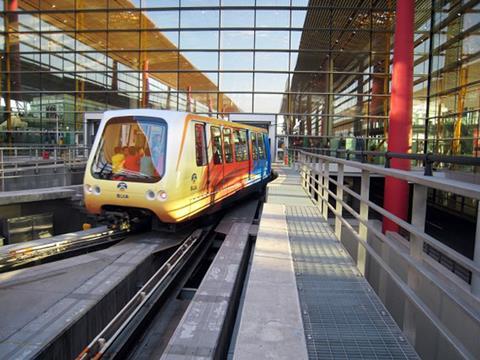 USA: Chicago Department of Aviation has awarded Parsons Construction and Bombardier Transportation a contract to upgrade the 4·3 km Airport Transit System automated peoplemover at Chicago O'Hare International Airport.
Bombardier's share of the contract announced on May 5 is worth $180m, and includes the supply of 36 Innovia APM 256 rubber-tyred vehicles, Cityflo 650 CBTC and on-board communications.
The vehicles will fit into the existing guideway and stations, while the CBTC can be installed without major closures. This should enable the current peoplemover equipment to remain in operation until replaced.
'We are confident that our vast experience in delivering brownfield system upgrades and asset replacements makes us the right partner to deliver this challenging project', said Pierre Attendu, President, Systems Division, at Bombardier Transportation.