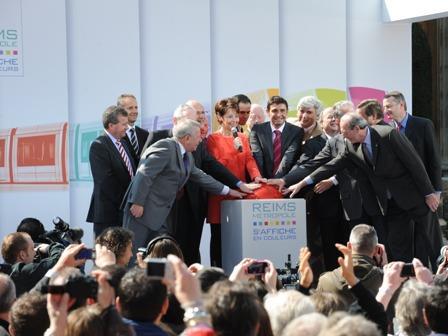 FRANCE: Reims tram line 1 was inaugurated by Adeline Hazan, the city's Mayor and president of Reims Métropole, on April 16 with other officials joining the ceremony which began a weekend of colourful celebrations to mark the opening. Commercial operation started two days later with trams running at headways of 6 to 8 min between 05.30 and 00.30.

The 11·2 km route with 23 stations links Neufchâtel in the north of the city to CHU Robert Debré and the TGV station at Bezannes in the south, serving around 70 000 inhabitants. Construction and commissioning took three years, and featured the use of Alstom's Appitrack tracklaying technology which enabled up to 300 m of track to be installed per day.

The line is operated by Transdev Reims using a fleet of 18 brightly-coloured Citadis trams which are designed to evoke a champagne flute. The 32 m long low-floor vehicles are equipped with APS ground-level third rail power supply for operation on a 2 km catenary-free section in the historic city centre.

Selected as concessionaire in July 2006, the MARS consortium, which includes Alstom Transport, Transdev, CDC Infrastructure, Colas and Bouygues, contributed €282m towards the total project cost of €305m. The remainder was financed by national and municipal sources, including the government's Grenelle de l'Environnement initiative.