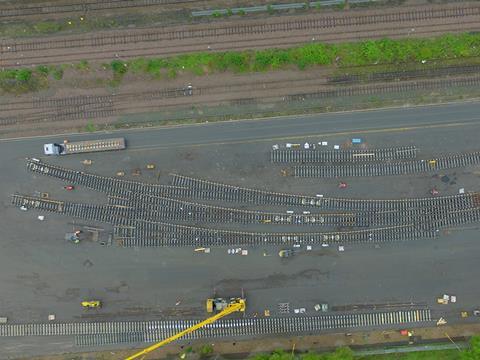 UK: Cemex Rail Solutions has supplied Progress Rail with concrete bearers for complex trackwork being installed outside London Waterloo station.
The multiple crossing with 10 sets of switches and 1 800 m of track was designed and constructed at Cemex's Rail Solutions Somercotes site in Derbyshire. Each bearer was numbered and colour-coded for transport to the Beeston assembly facility, then on to Hoo Junction for layout and addition of the rails.
'There were many challenges in producing this size of multiple crossing', said Terence Clair, Operations Manager at Cemex Rail Solutions. 'The main one was ensuring the data transfer of the 1:50 drawing into the data sets that we would use within our production process to the actual crossing and to ensure that each rail position was within 1 mm of its set position. Add to this the complexity of each individual bearer, the sheer volume of individual units and concrete it was quite a challenge.
'In the past the crossings would have been made of timber with the rail and plates laid on top and screwed in place. This unique crossing made of concrete has to have the securing fixings created during the production process. Being made of concrete makes it stronger and with a longer life span.'