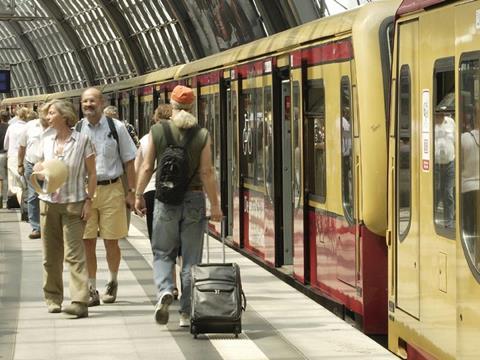 GERMANY: The Länder of Berlin and Brandenburg have announced their intention to award the incumbent S-Bahn Berlin GmbH subsidiary of Deutsche Bahn two 'transitional' contracts to continue to operate the Berlin S-Bahn network's North-South and Stadtbahn service groups until planned competitively-tendered contracts are awarded.
This follows the direct award last year of a contract to operate the Ring & Branches service group.
The contracts are to be awarded by June 3 2016 and would start with the end of the current contract on December 15 2017. The end dates vary, to reflect the planned timescale for the transfer of services to future operators to be selected through competitive tendering. The planned end dates are:
North-South
May 16 2023: S85 (Grünau – Hauptbahnhof);

November 12 2024: S25 (Teltow Stadt – Hennigsdorf), S15 (Frohnau – Hauptbahnhof);
May 23 2025: S2 (Bernau – Blankenfelde);
March 6 2026: S1 (Wannsee – Oranienburg).
Stadtbahn
May 16 2023: S9 (Flughafen BER – Spandau), S45 (Flughafen BER – Südkreuz);

November 12 2024: S75 (Ostbahnhof – Wartenberg);
July 16 2025: S7 (Potsdam Hbf – Ahrensfelde);
April 18 2026: S5 (Charlottenburg – Strausberg Nord);
November 17 2026: S3 (Erkner – Spandau).
The transitional contracts cover a maximum of 26·5 million train-km/year, reducing as services are transferred to the future operators. They include options for extensions in case there are delays in the tendering of the future contracts.