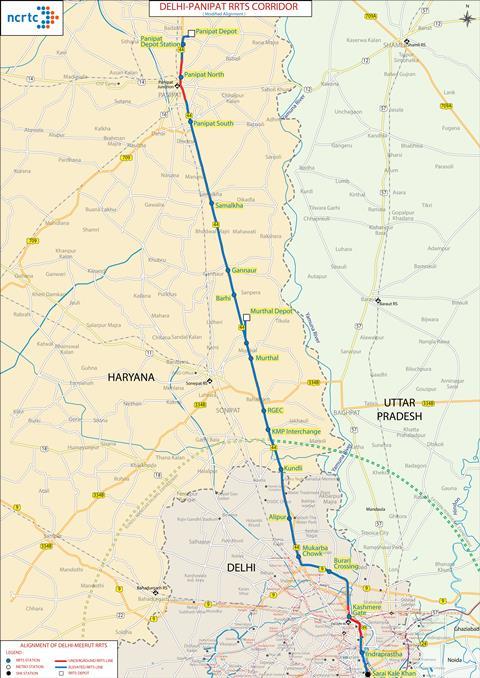 INDIA: The government of the state of Haryana has approved the 103 km Delhi – Panipat Regional Rapid Transit System commuter rail corridor, along with a contribution of Rs47bn towards the estimated Rs216bn cost of the project.
The National Capital Territory government is now considering the plan, before it is submitted to the Indian government for approval. Construction is expcted to take up to six years following final approval.
The 1 435 mm gauge line electrified at 25 kV 50 Hz would use a mostly elevated alignment with 17 stations. It would have a design speed of 180 km/h and operating speed of 160 km/h, giving an end-to-end journey time of 65 min.
The line is intended to significantly improve access to employment, healthcare and education by providing connectivity to key locations including Kundli, RGEC, Gannaur and Samalkha.
Destinations such as the Panipat Institute of Engineering & Technology, the IITM Group of Institutions research facilities, Ashoka University, Indian Institute of Technology Delhi Sonipat Campus, AIIMS and Park Hospital would be minutes away from the route.
Construction is to be undertaken in two stages, with the first stage covering the 58 km from Sarai Kale Khan to Murthal and the second stage the 45 km from Murthal to Panipat.
RRTS project promoter National Capital Region Transport Corp said the state's approval of the corridor on December 23 was 'yet another shot in the arm for realising the dream of seamless connectivity' and accelerating economic development.
The Delhi – Panipat RRTS is the third of a proposed network of eight 160 km/h electrified commuter lines in the capital region to be approved, following on from the 82 km Delhi - Meerut and 164 km Delhi - Alwar routes which are now under construction.