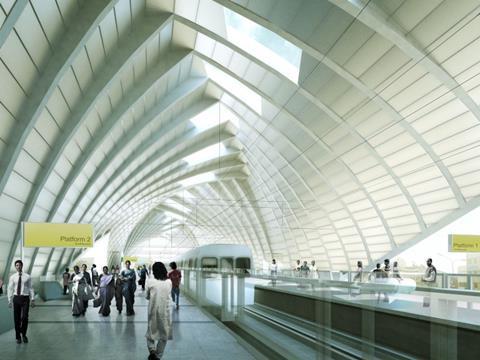 BANGLADESH: Tenders are to be invited in January for eight work packages on Dhaka Metro Line 6, Transport Minister Obaidul Quader announced on November 5.
The minister said he hoped that the contracts could be signed in time for construction to get underway in 2016, which would see the first phase opening for commercial operation by December 2019 as previously envisaged. Enabling works are already in progress on some parts of the route for Line 6, and the capital's development authority Rajuk has handed over 5·7 ha of the estimated 22 ha of land required.
According to Metrorail Project Director Mohammad Mofazzal Hossain, detailed design of the first line is due to be finalised by July 2016. The total cost of Line 6 is put at 220bn taka, of which 166bn is being funded by Japan International Co-operation Agency and the remaining 54bn will be provided by the government.
The 20·1 km line will run on an elevated alignment from Uttara to Bangabandhu National Stadium and Bangladesh Bank, serving 16 stations. It would be operated by a fleet of 56 trains each able to carry 1 800 passengers, giving a design capacity of 60 000 passengers/h in each direction with trains running at 4 min intervals. End-to-end journey time is expected to be less than 40 min.
According to Quader, the eight contract packages will be split into two for building and equipping the depot, four for construction of the line and stations, and two for supply of the mechanical and electrical systems and the rolling stock. Asked about reports that UK-based architects John McAslan & Partners had been appointed to design the stations, the minister said 'they gave us a proposal but no contract has been signed'.
Meanwhile, Quader said that planning was also getting underway for a 36 km Line 7 connecting Purbachal, Badda, Kamalapur and Narayanganj.