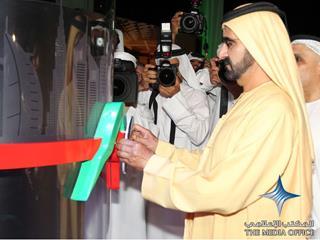 UAE: On September 9 the Dubai metro's Green Line was officially opened by Sheikh Mohammed bin Rashid al Maktoum, Vice-President and Prime Minister of the UAE and Ruler of Dubai, with passenger services scheduled to start the following day.
The 23 km Green Line runs from a park and ride facility with 2 350 spaces at Etisalat as far as Dubai Healthcare City, including 8 km in tunnel between Salah Al Din and Khalid bin Al Waleed. Interchange is provided with the Red Line at Khalid bin Al Waleed and Union, the latter 'the biggest underground station worldwide' according to RTA, covering 25 000 m2 with capacity to handle 22 000 passengers/h.
Serving 'dynamic and high-density commercial, government and residential areas', the Green Line is expected to be carrying 100 000 passengers/day by the end of this year.
It will eventually serve a total of 20 stations. Al Jadaf and Creek stations are complete, but are to be opened at a later date pending property development that will generate sufficient ridership, according to Roads & Transport Authority Chairman & CEO Mattar Al Tayer.
Al Tayer also reported that the Red Line had carried a total of 84·2 million passengers between opening on September 9 2009 and the end of August this year.