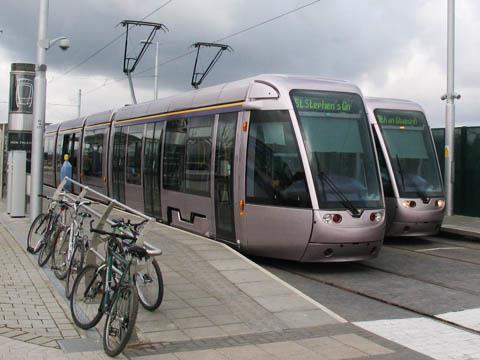 IRELAND: Plans for a partly-underground high-capacity light rail line from central Dublin to the airport and northern suburbs are to be revived, the government said when announcing a €3·6bn seven-year public transport spending programme for 2016-22 on September 29.
The line would run 16·5 km from St Stephen's Green in the city centre to Swords Estuary in the north, via O'Connell Street, Mater hospital, Dublin City University and Dublin airport. Almost 8·5 km of the route from St Stephen's Green to Griffith Avenue and beneath the airport would be in tunnel, with six of the 14 stops underground.
A previous iteration of the Metro North project was approved in 2010, but this was put on hold when government spending cuts were announced in 2011. The revised New Metro North scheme involves less tunnelling, shorter platforms, a surface rather than elevated alignment in Swords and one rather than two stops on O'Connell Street, reducing the estimated cost to €2·432bn plus VAT. This would be on top of the current transport funding allocation. The government envisages that construction could commence in 2021 for completion in 2026-27.
Services would be operated using 60 m long vehicles running up to every 2 min, with an O'Connell Street – airport journey time of 19 min, and 31 min from O'Connell Street to Swords Estuary. Ridership is estimated at 30 million passengers/year.
In the longer term the line could be extended south to relieve the Luas tram Green Line and form a north–south metro corridor across the city.
Almost 22 million passengers used Dublin Airport in 2014, with 36% reaching the airport by bus, 33% by private car and 22% by taxi. A further 15 700 people work at the airport site.
'We have been highly supportive of the plans for a rail link from Dublin airport to the city centre for many years and we're pleased that the government has approved the new Metro North option,' said Dublin Airport Authority CEO Kevin Toland. 'A rail link to the city centre is an essential element of Dublin airport's long-term growth plans and we welcome the fact that the new Metro service will be underground at the airport as this will allow an efficient transfer of passengers from the Metro to the terminals and vice versa.'