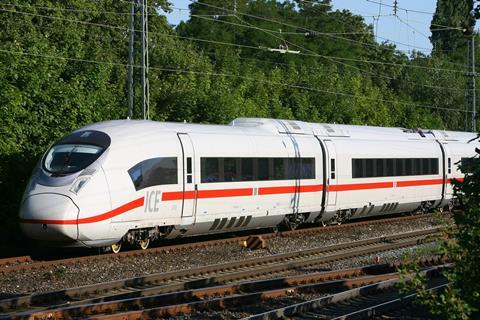 GERMANY: After many months of delays, the first four of 16 Class 407 high speed trainsets for Deutsche Bahn have been approved for use in Germany by EBA, the national railway safety authority.
DB placed an order worth around €500m with Siemens in November 2008 for 15 Class 407 trainsets for operation both on domestic and international routes; the order was subsequently increased to 16 trains, which are designated Velaro D by the manufacturer. The first Class 407s were scheduled to enter traffic in December 2011.
Siemens says it has now delivered four of the eight-car, 320 km/h trains to DB for use on domestic long-distance services, with a further four to follow 'in Spring 2014'. EBA has approved operation both singly and in multiple.
The remaining eight trains are being used for test running in France and Belgium as part of an ongoing process to gain type approval for international operation. 'We're dependent in this connection on a number of suppliers. In order to accelerate these processes in the future, we have to achieve harmonisation with respect to technology and approval in Europe as quickly as possible', commented Jochen Eickholt, Chief Executive of Siemens' Rail Systems division.
Siemens cites variation in train control systems and approval processes between European countries as a major factor in the trains' delayed entry to traffic.