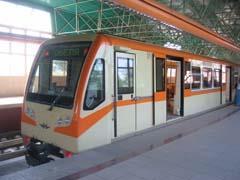 BULGARIA: The European Investment Bank has announced a €105m loan to the city of Sofia to co-finance the construction of metro extensions totalling 12·8 km and the acquisition of an additional 15 trainsets.
As part of the city's development master plan metro Line 1 is to be extended a further 2·2 km southeast to Tzarigradsko Shose Boulevard, with two stations.
Work on the planned Line 2 will begin with a 6·4 km first phase running south from Nadezhda to Cherni Vrah Boulevard via Tsentralna station and city centre. The four station second phase will extend Line 2 north by 4·1 km to serve Obelya.
EIB is providing Firenze with a €100m loan to fund projects in the Italian city's 2009-11 three-year plan, including support for the tram network which is now under construction.