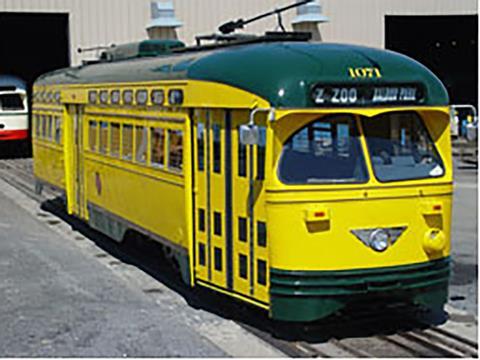 USA: Camino Real Regional Mobility Authority has awarded Brookville Equipment Corp an $18·8m contract to overhaul and modernise six PCC streetcars dating from 1937 for use on the future 7·7 km El Paso Streetcar Project in Texas. Brookville said the aim would be to provide 'a modern transit solution wrapped in a nostalgic, historical package'.
The trams were manufactured by the St Louis Car Co for the San Diego Electric Railway, and later sold to El Paso where they ran to Ciudad Juárez in Mexico until being stored in 1974.
Refurbishment will involve stripping down the vehicles, repairing and replacing structural carbody components and undertaking complete rewiring. Bogies are to be remanufactured, doors upgraded a modern equipment installed including air-conditioning, a wheelchair lift, wi-fi, cycle racks and fareboxes. The vehicles will repainted in heritage liveries.
'By retaining the charms of yesteryear, while also integrating the latest technologies for passenger accessibility and convenience, we are hopeful these restored streetcars will serve as a reminder of El Paso's unique history and become iconic symbols of its future', said Joel McNeil, Vice-President of Business Development at Brookville, on October 27.
Brookville is currently undertaking a PCC rebuilding project for San Francisco Municipal Transportation Authority, and including the El Paso project will have worked on 56 PCC and 32 other heritage streetcars.