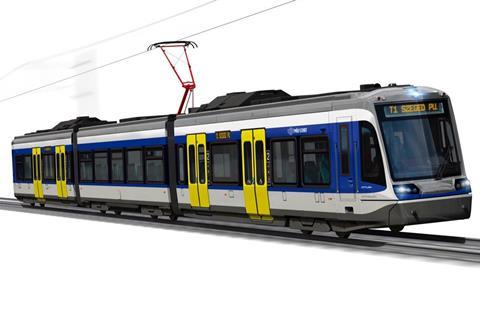 HUNGARY: National passenger operator MÁV-Start has exercised an option for Stadler's Valencia plant to supply a further four Citylink electro-diesel tram-trains for the route being developed to link Hódmezővásárhely with Szeged.
The country's first tram-train project aims to provide a high-quality service for daily commuters between the two cities, which are 25 km apart. Both have inconveniently located railway stations, meaning the majority of public transport commuting is currently by bus. The tram-trains will use 600 V DC electric power on the street-running sections in the two cities, and will be powered by two low-emission diesel powerpacks rated at 390 kW on the main line.
MÁV-Start placed a HF17∙6bn order for an intial eight Stadler tram-trains in Novmber 2017, and these are expected to enter service in late 2021. The additonal vehicles announced on July 3 will follow by the summer of 2022, enabling the service to be increased from every 20 min to every 15 min.
The low-floor vehicles will be 37∙2 m long and 2 650 mm wide with a capacity of 220 passengers, including 92 seated. They will have four multi-purpose places for persons with reduced mobility including wheelchair users and people with prams.
They will be able to negotiate curves down to 22 m radius, and will have doors at different heights, as well as sliding ramps to provide easy access at stations without requiring infrastructure modifications. Other features include air-conditioning, CCTV and a passenger infomration system.
The tram-train project was described in detail in the Spring 2020 issue of Metro Report International magazine, which registered users can read online.