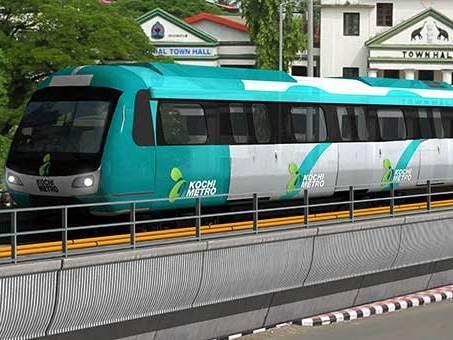 INDIA: Alstom Transport has awarded Faiveley Transport a series of contracts to supply onboard equipment for the 25 three-car Metropolis trainsets its Sricity plant in Andhra Pradesh is to build for the Kochi metro under a €85m contract awarded in October 2014.
Faiveley's contracts have a total value of more than €10m, and include the supply of braking systems, automatic and semi-permanent couplers, external doors and saloon heating, ventilation and air conditioning systems.
Engineering will take place at Faiveley's facilities at Hosur in India, Shanghai in China and Witten in Germany, with the support of the group's European Centres of Competence. Manufacturing will be undertaken in Europe, China and in India. Deliveries are scheduled for 2015-17.
The standard gauge air-conditioned trainsets for Kochi will be 65 m long with capacity for 975 passengers, with a maximum operating speed of 80 km/h using a 750 V DC third-rail supply. Alstom's contract includes an option for a further 25 trainsets.
In 2011 Faiveley signed a contract to supply Alstom with brakes, couplers and doors for rolling stock for the Chennai metro. It has also supplied components for metros in Dehli, Bangalore and Hyderabad. Simon Charlesworth, Vice-President, Sales & Marketing, said Faiveley's 'established localisation in India demonstrates its on-going commitment to meeting its customer's specific technical requirements and increasing expectations for local production.'