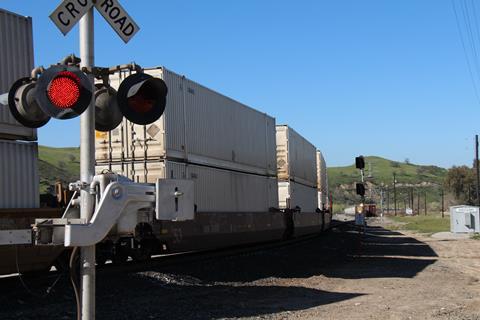 USA: Rail industry associations have criticised a Federal Railroad Administration proposal to replace varying state laws on train crew size with a uniform national standard requiring a minimum of two people for main line operations.
There would be exceptions for low-risk operations, with railways able to petition FRA to continue legacy operations with one-person crews or obtain approval for new operations.
FRA said current industry practice is to have two-person crews comprising a locomotive engineer (driver) and conductor, but there are varying requirements which result in 'potential safety risks, operational inefficiencies and significant costs'.
'We are committed to data-driven decision-making', said FRA Administrator Amit Bose on July 27. 'In cases where railroads wish to operate with fewer than two crew members, we are proposing that they perform a rigorous, thorough and transparent risk assessment and hazard analysis, and FRA will provide an opportunity for public comment.'
Responses
The proposed change was welcomed by Greg Regan, President of the Transportation Trades Department of the American Federation of Labor & Congress of Industrial Organizations, who said 'by creating a federal standard across the industry, the FRA can address the significant safety concerns presented by railroads operating with single person crews.'
However, the measure was criticised by the Association of American Railroads, which said the change would 'lock in yesterday's regulatory approaches' and make it 'nearly impossible' for operators to move to single-person crews. AAR said this would put rail at a long-term competitive disadvantage.
AAR President & CEO Ian Jefferies said a similar rule was rejected in 2019, and with the 'full deployment' of Positive Train Control 'there is no plausible safety justification for regulating the number of individuals physically located inside the cab of a locomotive'.
The American Short Line & Regional Railroad Association said the proposal was 'ill-conceived, ill-timed and unnecessary' and would hinder the efficient operations of some small railways which 'operate safely today with a variety of crew sizes, including single-person crews' and would 'stifle innovation well into the future'.