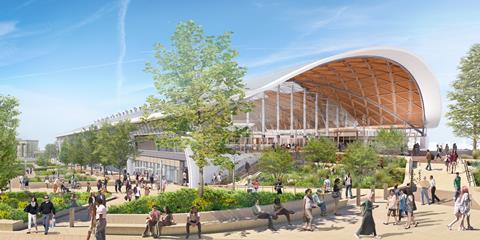 UK: HS2 Ltd confirmed on May 10 that it had selected a consortium of Mace and Dragados to build the station at Birmingham Curzon Street under a contract worth £570m.
Mace-Dragados will work with HS2 Ltd in two stages, initially to finalise the detailed design and then to build the station itself. HS2 Ltd says the terminus will be 'net zero carbon in operation and adopt the latest eco-friendly design and sustainable technologies, including capturing rainwater and utilising sustainable power generation, with over 2 800 m2 of solar panels located on platform canopies.'
Mace and Dragados are already working in a separate joint venture to build the HS2 station at London Euston, having previously worked together on a number of international station developments including Madrid Atocha and Barcelona Sants.
HS2 Ltd has worked with consultancy WSP and Grimshaw Architects on the design for Curzon Street, which it says is 'inspired by the great arched roofs built by the Victorian railway pioneers'.
Passengers will be able to access up 'to nine high speed trains per hour' from the station, of which the majority are expected to serve destinations in the Midlands and northern England, with only three trains/h planned to head to London.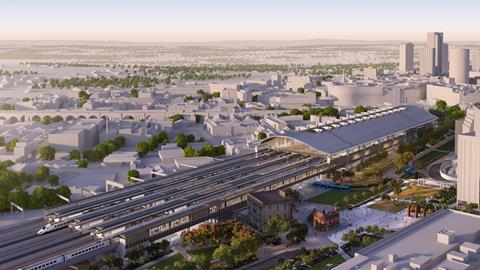 Curzon Street will be served by the Midland Metro light rail network, while accessible pedestrian routes will provide connections to local bus services, Sprint rapid transit bus services and local rail services from the neighbouring Moor Street station. Parking for more than 550 bicycles will also be provided.
HS2 Ltd reports that significant progress has already been made at Curzon Street. Site clearance is now complete, while a massive archaeological programme, involving 70 archaeologists, has unearthed what is thought to be the world's oldest railway roundhouse.
'Birmingham Curzon Street is right at the heart of the HS2 project, providing a fantastic terminus for trains running right into the city centre', said HS2 Ltd Chief Executive Mark Thurston. 'The station will play a vital role in the long-term economic future of the West Midlands, creating hundreds of jobs during construction and boosting the region after the pandemic.'
'This is a huge moment for Birmingham and for HS2. The brand new, world class HS2 station at Birmingham Curzon Street will place the city at the beating heart of the new HS2 network', added HS2 Minister Andrew Stephenson.