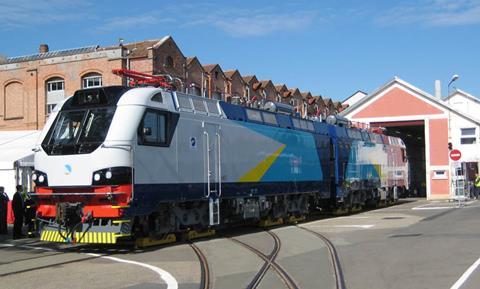 KAZAKHSTAN: The first of 200 KZ8A twin-section freight locomotives being supplied by an Alstom-led consortium to national railway KTZ was unveiled in Belfort, eastern France, on October 2.
Under a contract valued at €1·3bn signed in March 2011, the EKZ joint venture of KTZ (50%), Transmashholding (25%) and Alstom (25%) will assemble a pre-series batch of 10 locomotives at Belfort, with a further 15 to be shipped to Kazakhstan in kit form. A locomotive manufacturing facility is nearing completion in Astana where the remaining locomotives will be produced, and Alstom expects it to be formally opened on December 12 2012.
Rated at 8 800 kW, the twin-section double Bo-Bo KZ8A has been designed to meet the specific operating conditions found in Kazakhstan, typified by extreme temperatures ranging from +50°C to -50°C. A number of design measures have been included to mitigate against particular problems known to occur at temperatures below -40°C, such as the risk of grease on ventilator fans freezing. All air inlets are mounted on the roof to limit snow ingress, double-skin bodyshells are produced from specially-treated steels and components mounted on electronic cards have been treated with a protective varnish.
Whilst the locomotives are required to meet the Russian GOST technical standards which also apply in Kazakhstan, the KZ8A design differs significantly from the 2ES5 locomotives now being produced for Russian Railways by the Alstom-TMH joint venture at the Novocherkassk plant in Russia. According to Jean-Marc Guillemin, Kazakh locomotives project director at Alstom Transport, the 2ES5 is effectively 'a Russian design with Alstom components', but the EKZ locos are designed 'specifically to meet the needs of a different client, KTZ'. This has enabled Alstom to have a greater degree of design input, for example by providing extensive insulation of the cab and equipment compartment. Heaters are fitted to the cab floor, seats and driving desk, and a jack has been fitted to raise a snow-laden pantograph.
Design work is also progressing at Belfort on the KZ4AT passenger locomotive; 95 single-unit 200 km/h locos are being supplied to KTZ as a follow-on order to the KZ8A. The first locomotive is expected to be rolled out in 2014 with production in Astana commencing the following year.
* Alstom signed a 25-year contract on October 3 with KTZ subsidiary AO Lokomotiv covering the maintenance, overhaul and refurbishment of 27 KZ4AC passenger locomotives. Effective immediately, the agreement is worth in 'excess of €100m' according to Alstom. The KZ4AC locomotives are used primarily on long-distance passenger work, and were supplied by CSR Zhouzhou with Siemens electrical equipment.