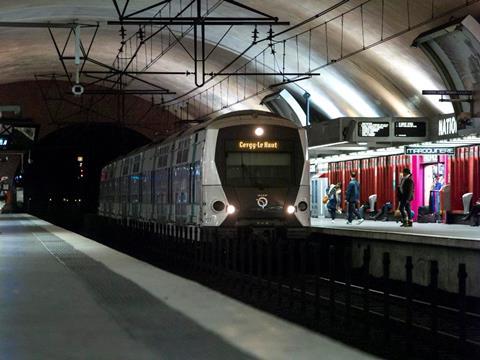 FRANCE: The first trainset fitted with automatic train operation equipment started running on part of Paris RER Line A on April 27. The MI09 electric multiple-unit has been running under automatic operation between Nanterre-Préfecture, Val-de-Fontenay and Fontenay-sous-Bois.
In January 2015 RATP, STIF and the Ile-de-France region selected Alstom to supply ATO equipment under a €20m contract in what the supplier says is the first application of the technology to a heavy rail line. Alstom's Saint-Ouen and Villeurbanne sites are involved in the work.
ATO that meets Grade of Automation 2 — attended automatic operation with a driver present — will be installed on the Line A fleet of 183 MI2N and MI09 EMUs by November 2018. This will be overlaid on the existing SACEM, which monitors train speed and headways and provides a form of quasi moving block with 'distance-to-go' cab signalling overlaid on the lineside fixed blocks. Retrofitting the trains with ATO is intended to reduce the variability in performance associated with manual driving.
Line A currently carries 1·2 million passengers a day. The new signalling will allow commercial speeds to increase by 5 km/h, which is expected to offer savings of around 2 min on the average journey between Vincennes and La Défense. Headways will also be shortened.