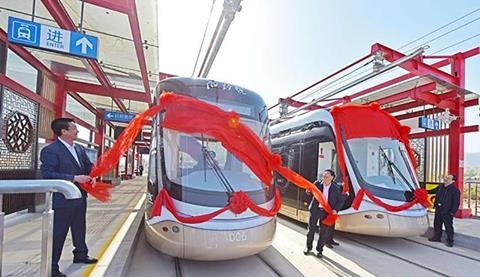 CHINA: Gansu province's second city Tianshui opened a light rail line on May 1, running west from the mainline station to Wulipu.
The 12·9 km line built by China Railway Signal & Communications Group runs on segregated alignment along the north bank of the Wei and Jei rivers. There are 11 stops, with one more to follow later.
The line is catenary free, with power supplied by onboard batteries recharged at stations from a pantograph and overhead power rail.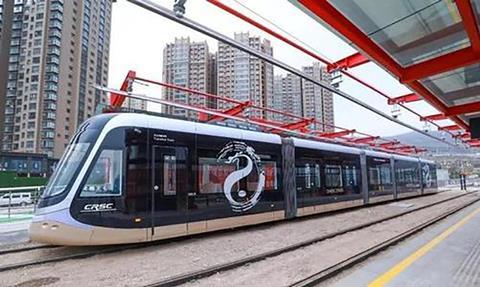 The city began feasibility studies in late-2014, with approval given in 2015. Trial running began on March 24 2019. Services now run from 06:30 to 21:30 with a 9 min headway.
Work is to follow on 7·3 km extension west to the western bus station at Jihe Beilu with five stops, and a branch south from Yangpodong across the River Jie to the high-speed station at Tianshui South.
A network of over 90 km with five lines is envisaged.
The Pioneer LRV design was developed in conjunction with Inekon Group, in which CRSC bought a 51% stake on July 23 2014. The first of 17 five-section 70 km/h cars was delivered on March 24 2019.
The cars are 100% low-floor with a capacity of 370 passengers, of whom 58 can be seated, and have four double-leaf and two single-leaf doors per side. As well as passenger information and CCTV equipment, the trams also have onboard payment facilities and tickets can be purchased through apps such as WeChat or Alipay.