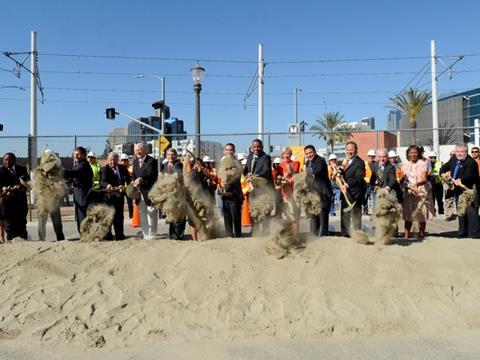 USA: A groundbreaking ceremony for the Regional Connector light rail line took place in the Little Tokyo district of Los Angeles on September 30.
The 3 km underground line will link the Blue, Expo and Gold lines and add three stations, at 1st Street/Central Avenue, 2nd Street/Broadway and 2nd Place/Hope Street. Completion is due in 2020, and Los Angeles County Metropolitan Transportation Authority estimates that 60 000 passenger-journeys per weekday would be made on the line initially.
The $1·42bn project is being financed through the Measure R local sales tax, a $670m Full Funding Grant Agreement, a $160m Transportation Infrastructure Finance & Innovation Act loan and $64m in other federal funds.
In April the Regional Connector Constructors joint venture of Skanska and Traylor Brothers was selected for the $927·2m design-build contract.
Metro is also to receive a TIGER grant to modernise Willowbrook/Rosa Parks station on the Blue Line.