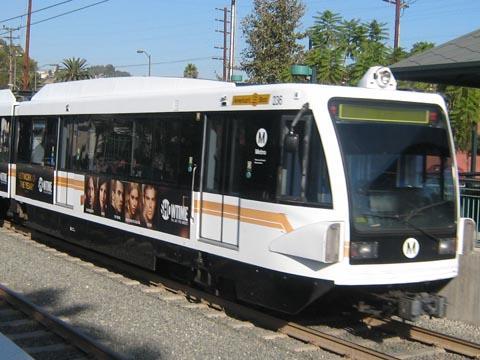 USA: A light rail vehicle was towed along the 9·7 km Gold Line Eastside Extension from Los Angeles Union Station to Atlantic Boulevard and Pomona Street on January 27 to check clearances. The $898m extension is on course to open this summer, under budget and several months ahead of schedule.
Hill International has been selected to provide programme management services on the first phase of the Gold Line's 18·3 km Foothill Extension, which will connect the existing terminal in Pasadena with the city of Azusa at a cost of $458m. If funding can be obtained next year, revenue service could start by December 2013.
Meanwhile, a recently-released draft Environmental Impact Report for Phase 2 of the Expo Line light rail route from Culver City to Santa Monica has recommended using an abandoned railroad right-of-way instead of street running at the eastern end of the corridor. There are still two route options for the western end of the extension in Santa Monica, one along Olympic Boulevard and the other on parallel Colorado Avenue. The line is tentatively scheduled to open in 2015. Phase 1 of the Expo Line from Los Angeles to Culver City is under construction and expected to open in the summer of 2010.