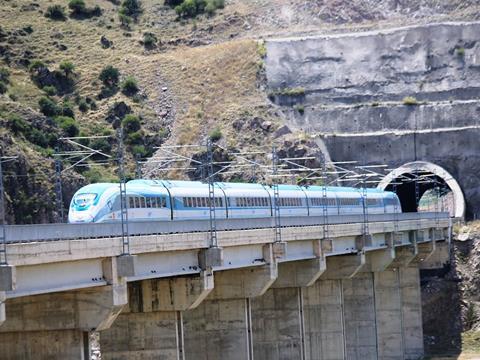 TURKEY: Transport Minister Cahit Turhan provided a progress update on November 16 on three new line projects as they near completion under the railway investment Master Plan.
The government's priority is completion of the surface works along the Marmaray corridor which runs across Istanbul from Gebze on the Asian side to Halkalı on the European side. Shuttle services have been running through a tunnel under the Bosporus since 2013, serving six stations, but these are currently isolated from the rest of the national network.
Turhan said that the full route would open to traffic by the end of the first quarter. As well as enabling introduction of suburban trains over the 77 km route, a third track on both the Asian and European sides would also open for long-distance traffic. This could include inter-city passenger trains to and from eastern Turkey and potentially overnight freight services.
Ankara – Istanbul high speed trains have for the past several years terminated at Pendik in the eastern suburbs of the city. Completion of the Marmaray works would allow these to run further west either through the Bosporus tunnel or to return to the historic Asian terminus at Haydarpaşa, which is being refurbished under a programme launched in 2014. However, this work has been delayed by a series of archaeological finds.
While operator TCDD Tasımacılık has been offering high speed services between Istanbul and Ankara since 2014, the only dedicated infrastructure these have been able to use to date has been the section between Ankara and Eskişehir. Modernisation work between Eskişehir and Gebze is still ongoing, and only part of this section will be new alignment.
Turhan also confirmed that the Ankara - Sivas high speed line is expected to open by the end of 2019. Civil works have largely been completed, with work on 13 viaducts and bridges outstanding. The alignment will reduce the distance by rail between the two cities from 603 km to 405 km and the journey time from 12 h to 2 h.
The 624 km Ankara – Izmir high speed line is now expected to open in two stages, with the first between a junction south of Polatlı on the Ankara – Konya line and Usak planned for completion in the first half of 2020, and the rest being commissioned by the first half of 2021. The line is being developed under five construction packages.