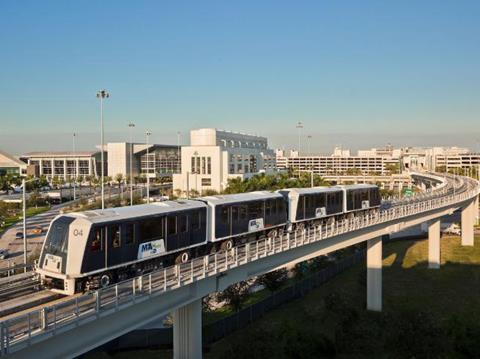 USA: Miami-Dade Aviation Department has awarded Mitsubishi Heavy Industries a contract to increase the capacity of the 2 km automated peoplemover which links Miami International Airport with the Miami Intermodal Center transport interchange.
This will include the supply four additional rubber-tyre cars in 2016, taking the fleet to 12.
The MIA Mover is operated by MHI's US subsidiary under a five-year contract, and has attracted more passengers than were predicted when it opened in 2011.
Earlier this year MHI won contracts to increase capacity on the Sengkang and Punggol LRT lines in Singapore. Announcing the Miami contract on September 26, the company said it intends to become 'increasingly proactive in undertaking marketing activities targeting not only new APM systems but also extension and expansion work on existing systems worldwide.'