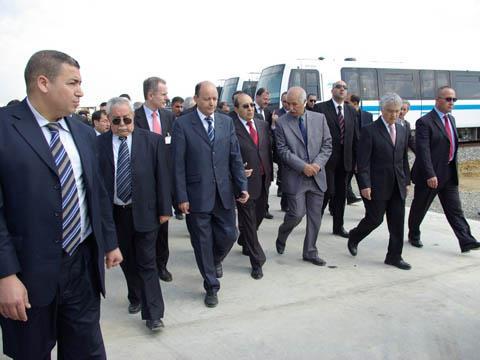 ALGERIA: Government ministers rode over the first completed section of Alger metro Line 1 in early April. On board the special train were Minister of Transport Amar Tou, Minister of the Interior Yazid Zerhouni and Minister of Energy & Mines and President of OPEC Chakib Khalil.
Starting from the depot at Bach Djerah, the train ran through Hai el Badr, Cité Mer et Soleil and Cité Amirouche stations to terminate at Les Fusiliers in the city centre. The next construction milestone, scheduled for this summer, will be to run trains over the entire 9 km route to the initial terminus of Line 1 at Tafourha Grande Poste.
Entreprise Métro d'Alger awarded a €380m turnkey contract for electrical and mechanical systems for Line 1 to a consortium led by Siemens in January 2006.
Siemens' €145m share includes providing Trainguard MT CBTC automatic train control, telecoms, electrification, rails, ticketing and the operations control centre, as well as overall project mana gement. CAF is supplying 14 six-car trains, while Vinci Construction Grand Projets is responsible for the 10 stations, tunnel ventilation and the depot.