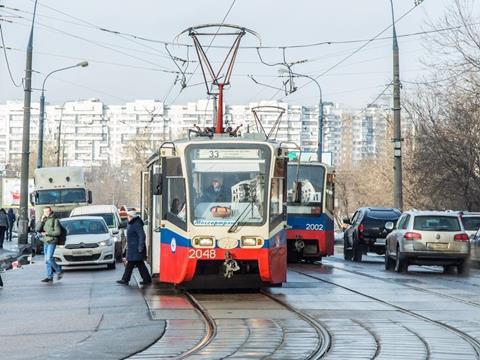 RUSSIA: Moscow has called tenders for the supply of 300 three-section trams. The projected cost includes 28·5bn roubles for the rolling stock and 27·7bn roubles covering 30 years of maintenance.
Deliveries are expected between 2017 and 2019. The tender specifies that at least 70% of components must be produced within the Eurasian Customs Union of Russia, Kazakhstan, Belarus, Armenia and Kyrgyzstan.
In the meantime, Moscow's older trams continue to be cascaded to other cities. Orenburg Oblast is to receive eight Type KTM-8KM and 14 Type LM-99AE trams that are to enter service on the networks in Orsk and Novotroitsk. Tula is to receive 30 Type KTM-19 trams, while Saratov is in line for 23 and Novosibirsk 10 of Moscow's older KTM-8KM and KTM-17 trams.