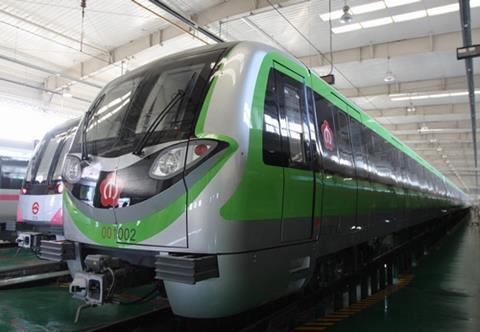 CHINA: On April 1 Nanjing opened metro Line 3, its fourth conventional metro line and sixth overall.
The 44·1 km has 30 stations. Running southeast from Linchang, the line crosses the River Yangtse in tunnel between Liuzhoudonglu and Shangyuanmen. It then continues south to Mozhoudonglu, via Nanjing and Nanjing South railway stations. All stations apart from Linchang are underground.
Interchange is provided with metro lines 1, 2, S8 and the future Line 4, which is due to open later this year. The depot is at the southern end of the route.
Construction started in January 2010 and was divided into northwestern and southern sections.
Services run from 06.00 to 23.00 and are operated with 46 six-car Type A aluminium-bodied trainsets ordered from CSR Nanjing Puzhen in July 2011 together with trainsets for Line 10. These have a maximum speed of 80 km/h and draw power from overhead wires at 1·5 kV DC.