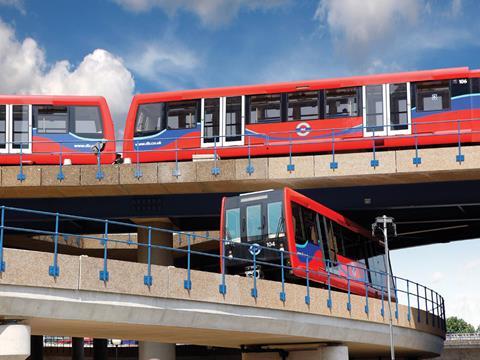 UK: Transport for London's Docklands Light Railway Ltd subsidiary has issued a periodic indicative notice to begin industry consultation on a possible new generation of rolling stock for the automated light metro. The aim of the New Train would be to reduce journey times, improve passenger ambience and reduce whole-life costs.
TfL is aiming to start a 'technical dialogue' with established rolling stock manufacturers to determine what is currently available or being developed, and what would be the optimum technical solution to meet its requirements.
TfL says the DLR's current 8% annual growth in passenger-journeys is forecast to continue, which would require additional rolling stock to meet demand. Replacement of the existing fleet of 94 B92 trainsets is also under consideration. These 28∙8 m long vehicles are generally operated in three-unit formations with a total length of 86∙4 m.
While like-for-like replacement is not ruled out, an 86∙4 m long fixed-formation New Train is considered 'more likely'. This would be 2 650 mm wide with 'longitudinal metro seating'. TfL envisages increasing the door space from 20% to around 30% of vehicle side.
As with the current fleet, operation would be driverless with an on-train passenger service assistant. A maximum speed of 80 km/h is required, with 'very high' levels of reliability. Energy consumption should be minimised, and saloon air cooling/heating equipment should not reduce passenger space.
The likely size of the New Train fleet is put at 40 to 50 vehicles. This is equivalent in terms of capacity to 120 to 150 of the current vehicles.