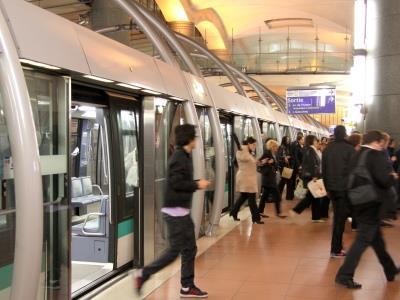 FRANCE: At its meeting on October 5, the board of Ile-de-France transport authority STIF approved the next phase of the Grand Paris Express programme, comprising 29 km of automated metro due to enter service at the end of 2023, expected to cost over €4bn to build.
As well as a 1⋅5 km extension of Line 14 from Mairie de Saint-Ouen to Saint-Denis Pleyel, STIF has given the go-ahead to build a 27 km underground route from Saint-Denis Pleyel to Noisy-Champs with eight intermediate stations. The route from Saint-Denis to Noisy will form Line 16 of the Grand Paris Express network, with the 6 km between Saint-Denis and Le Bourget RER also used by Line 17 from Mairie de Saint-Ouen to Terminal 2 at Roissy-Charles-de-Gaulle Airport.
STIF and Ile-de-France region President Valérie Pécresse said that the new routes would carry 10% of passengers using the Grand Paris Express network, improving access to public transport in the northeastern outer suburbs and cutting journey times to the centre of Paris and the business district at La Défense. She added that they would also help to rebalance the regional economy from west to east, while supporting the French bid to host the Olympic and Paralympic games in 2024.