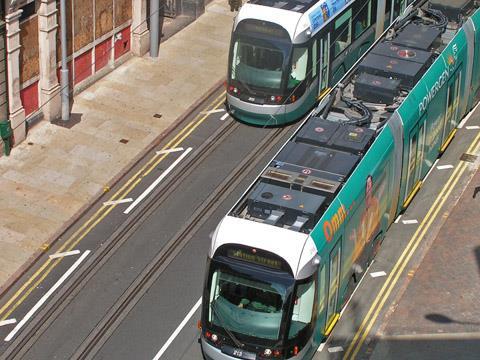 UK: Following the confirmation of government funding for the PFI deal, on December 15 Nottingham City Council and preferred bidder Tramlink Nottingham signed the £570m NET Phase Two contract to build two new tram lines and take over the operation of the existing line which opened in 2004.
The contract runs for 23 years, with work on the 7·5 km extension to Clifton and 10 km route to Beeston scheduled to being in January for services to begin in late 2014.
The Tramlink Nottingham consortium includes Alstom, VINCI Investments, Keolis and Wellglade, which owns local bus operator Trent Barton, plus Meridiam and OFI Infravia as financial backers.
Alstom's share of the contract is worth €350m, and will include responsibility for track, power and signalling as well as the supply of 22 Citadis trams and their maintenance along with the existing fleet of 15 Adtranz Incentro trams.
The government is to meet 66% of the cost of NET Phase Two, with the rest of the funding coming from the city council which is to introduce a workplace parking levy on employers which provide 11 or more car parking spaces.
'After ten years in planning and development, alongside the innovation of the Workplace Parking Levy our ambitious proposals to add two more lines to our tram network will now be realised', said Councillor Jane Urquhart, Portfolio Holder for Planning & Transportation. 'This is fantastic news for Nottingham. In these constrained financial and economic times it means a significant boost to the local economy, more jobs and better public transport for thousands of people.'
Read more about the NET expansion programme in the December 2011 issue of Metro Report International.