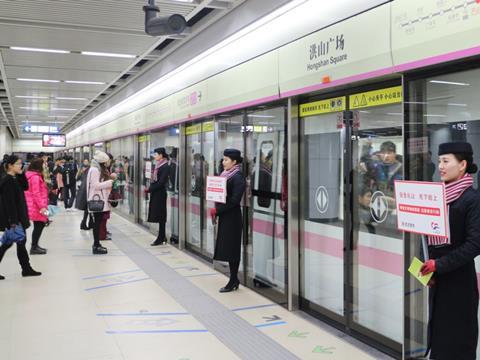 CHINA: Revenue services have resumed on the Wuhan metro network following the coronavirus outbreak, with special precautions put in place to protect travellers. Work has also restarted on a number of expansion projects that had been put on hold.
Metro services in the city had been suspended on January 23, and restarted on March 28. Just 183 000 passengers were carried on the first day, compared to an average of 3·3 million/day in 2019.
All passengers are required to maintain a minimum separation, wear a mask and scan QR codes with their health and personal details which will be used to trace their journeys in the event of any new outbreak. Body temperatures are recorded at stations by infrared devices.
Construction and fitting out work has restarted on the extensions of lines 6, 8 and 11 which are all scheduled to open this year, as well as new lines 5 and 16 which are due to open in 2021 and a further four projects which are scheduled for completion in 2022-25.